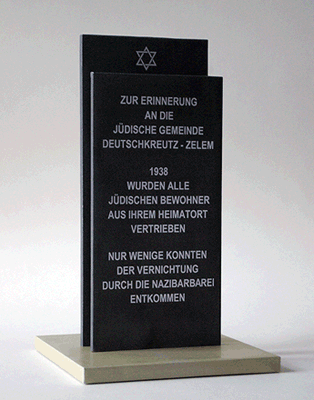 ESTABLISHMENT OF A MEMORIAL
IN DEUTSCHKREUTZ-ZELEM




Michael Feyer, founder of the MA PITOM agency, conceived, initiated and designed the memorial now standing in Deutschkreutz-Zelem. The entire project including development of the concept, fundraising, project management and public relations, was carried out pro bono.



The goal of the project is to honour and remember the Jews of Deutschkreutz-Zelem, a once thriving Jewish community renowned and respected far beyond its borders until 1938. Deutschkreutz-Zelem was one of the seven Jewish communities in the Burgenland, also known as the Sheva Kehillot.



The monument points out the former synagogue and the surrounding buildings which were used by the Jewish community. It is located in front of the Goldmarkmuseum in the centre of what was once the heart of Jewish life, the former Judengasse, or Jew's Street.



A programme of Jewish cultural events including documentary screenings, lectures and musical evenings is now planned nearby.